This post may contain affiliate links. Please read my disclosure for details.
What tools are you teaching your students in your social media class?
Recognizing the need to teach students how to use social media dashboards, I began teaching Hootsuite in the classroom a few years ago.  However, I was disappointed in the limited amount of time I was able to spend teaching students social media dashboards. I felt I was underserving my students. I felt students weren't getting a true sense of how the industry uses social media dashboards. But there were so many other topics that needed to be covered in the semester.
That's why this semester I'm really excited that my Comm 322 Social Media class here at Shepherd is participating in the Hootsuite University program for Higher Education.
The Hootsuite University program offers students three very cool things:
1) Hootsuite University Education – Students get to learn how to use Hootsuite via this repository of online video materials, thus freeing up class time to focus on other topics. The education materials span from the basics of using social media on through the advanced features of using the Hootsuite Dashboard. The resource also includes advanced courseware including insightful lectures from industry leaders and useful case studies. Personally, I've truly enjoyed these lectures and case studies.
2) Hootsuite Certification – A major benefit to the students is the ability to take the Hootsuite Certification test and become "Hootsuite Certified." This is a unique resume building benefit. Before taking the certification exam, students complete several courses that teach them the ins and outs of Hoostuite far beyond the basic skills that your casual user will know. The certification demonstrates to employers that one is proficient in Hootsuite and certified professionals have the option of being listed in a public database that potential employers could browse (DId I mention there is a cool badge that certified professionals can put on their blogs or websites?).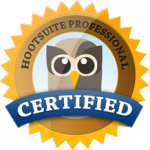 3) Hootsuite Pro – As part of the program, students get free access for 3 months to Hootsuite Pro, which includes advanced features such as analytics and the ability to add an unlimited number of accounts to one profile. Pro access normally costs $9.99/mo (list of benefits for Hootsuite Pro)
Some of the great social media educators I follow and admire participate in this program. It is a truly great program and If you are teaching social media in some capacity, I encourage you to check it out!
I'm looking forward to hopefully getting to continue participating in the program future semesters.
Want to learn more? Here's a great article about Karen Freberg's use of the program at the University of Louisville titled: "How University of Louisville is Teaching Social Media to Communications Students"
Have a great week!
-Cheers!
Matt
Hootsuite images are copyright of Hootsuite